An Exchange to Munich
By Evvy Phillips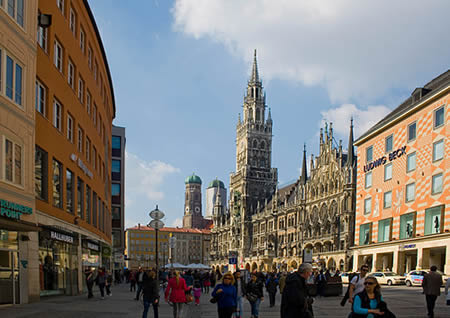 From April to May 2012, I was lucky enough to participate in a German exchange with the Fürstenried Gymnasium students in Munich. An exchange is a great opportunity to experience a whole culture and language, giving you a further insight into the details of a different country.
Although it was a huge amount of fun to have a German guest come to England, it was just as interesting, if not more, to take the plane into Munich airport and, for a week, to become a citizen of Munich. The school life in Munich was a completely different experience from that in England, with the contrasting building size and shape, the number of students, and the overall daily life being quite overwhelming.
The sights that we toured around were also stunning, and they provoked a whole different variety of emotions, such as the excitement and enthusiasm of the Bavaria Film Studios, a fascinating treat for all, to the Dachau concentration camp, with its brutally realistic replicas and real remains.
The trip to Munich was a wonderful experience, and it filled our heads with the wonders and sensations that could be experienced in such a beautiful part of the world. I would definitely recommend anyone who studies German to take part in this exchange, as it was a brilliant opportunity, and it is hard to even try to describe the amount of fun that all of us had on the trip.