Science across German-British Borders
By Kylie Vincent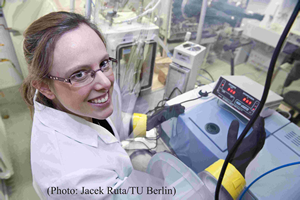 Back in 2004, my postdoctoral supervisor suggested I might like to spend a month in Berlin working with new collaborators in the Biology Department at Humboldt University, in order to follow up an idea for experiments at the interface between Chemistry and Biology. Biologists at Humboldt were studying soil bacteria that live on traces of hydrogen. As Chemists, we had techniques available in our laboratory for studying the enzyme that allows these bacteria to 'eat' hydrogen, and we already had some exciting results showing how this enzyme could select for hydrogen in the face of other gases in the air. This might sound like an abstract discovery, but the ability to extract energy from hydrogen underpins fuel cell technologies which allow hydrogen to be used as a clean, renewable fuel, so the results had a lot of interest for chemists as well as biologists.
That first month I spent in Berlin was the start of my love for this fascinating city full of surprises, as well as the beginning of a long and extremely productive collaboration between Microbiology and Chemistry, Berlin and Oxford. Eight years later, we have a long list of joint publications and joint research grants, and two patents. Exchange visits between students from the two groups have provided wonderful opportunities for cross-fertilisation of scientific ideas and laboratory cultures. In 2012 one of the Fourth Year MChem students in my group secured a DAAD scholarship to support an entire research year at Humboldt University. The Berliners sometimes see our approach to science as successfully chaotic: we are not afraid to cobble together equipment to 'just try' a new idea. Meanwhile, we are impressed by their ability to plan and perfectly execute an ambitious, long-term program of experiments. This combination of approaches has been one of the keys to the great success of our collaboration.
I speak only a little German, but language has rarely been a barrier because our Humboldt colleagues speak excellent English. It is only over lunch or a beer at the end of a long day of experiments that the conversation drifts back into German and I wish that I had taken the language more seriously at school. (Germany seemed a long way away when I was a high school student in Australia!) This longstanding collaboration across international and scientific borders has led to strong friendships between students and staff at all levels in the Berlin and Oxford teams and we have continued to develop exciting new joint ideas for the progress of our science. The collaboration has now extended to include scientists at the Technical University (TU) in Berlin, and I spent a fantastic summer in Berlin during 2012 working with the Humboldt and TU teams.