The High Dutch Minerva, by Martin Aedler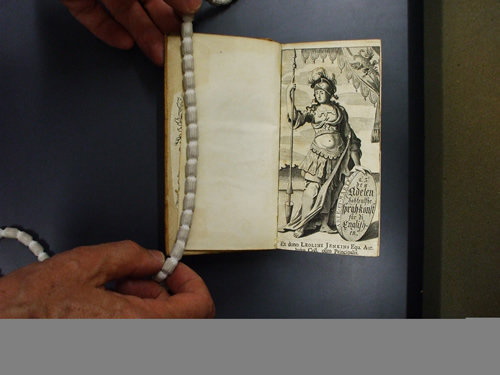 Published in 1680, the first ever German grammar for English learners was written by Martin Aedler, a lecturer in Hebrew at the University of Cambridge. Aedler was born in the university town of Jena (Thuringia, Germany) in 1643, but moved to England in 1677. Despite settling here, he remained passionately committed to the study of the German language. He carried out this work in part through his membership of the Deutschgesinnte Genossenschaft [lit: German-minded Society], a linguistic society with the basic aims of promoting the use and expansion of the German language and demonstrating courtesy and solidarity towards other members. Its members advocated spelling reform, for example – a topic that still resonates in Germany today. The orthographical system used in Aedler's Grammar reflects these reforming views. His grammar compiles grammar rules and idioms but also includes a great deal of linguistic commentary. It often compares German with English and other languages.
Aedler completed his grammar three years after arriving in England, and published it at his own expense. To make this possible, he borrowed money from an elderly widow, and when it became clear that he would struggle to repay the loan, he married her instead. This marriage was not a happy one for Aedler, owing to his new wife's reputed nagging, and for years to come he blamed this and his continued poverty on the publication of his grammar.
The image here shows the grammar's frontispiece, depicting the Greek goddess Minerva. The following pages contain the following inscription:
'The high Dutch Minerva a-la-mode or A. perfect. grammar : never extant before, whereby the English may both easily and exactly learne the neatest dialect of the German mother-language used thoroughout all.Europe; most humbly dedicated to.His.Royal.Highness Prince Rupert Count.Palatine.of.the Rhine Duke.of.Bavaria.and.Cumberland Vice-Admiral.of.all.England Knight.of.the.most.noble Order.of.the.Garter Constable.of His.Majesties castle.and.honour.of Windsor and.one.of His.Majesties most.honourable Privie-Council &c. by his.most.illustrious highnesses most humble and most obedient servant, the author.'
© The Principal and Fellows of Jesus College, Oxford
Bibliographic details:
The high Dutch Minerva a-la-mode (London, 1680)
Reference: Jesus College Fellows' Library N.3.12
The biographical details on Martin Aedler can be found in 'Martin Aedler: A Biographical Note', The Henry Sweet Society Bulletin, no. 30 (May 1998), pp 5-13.