Der aufhaltsame Aufstieg des Arturo Ui by Bertold Brecht (1941)
Written by Bertolt Brecht
By Benjamin Schaper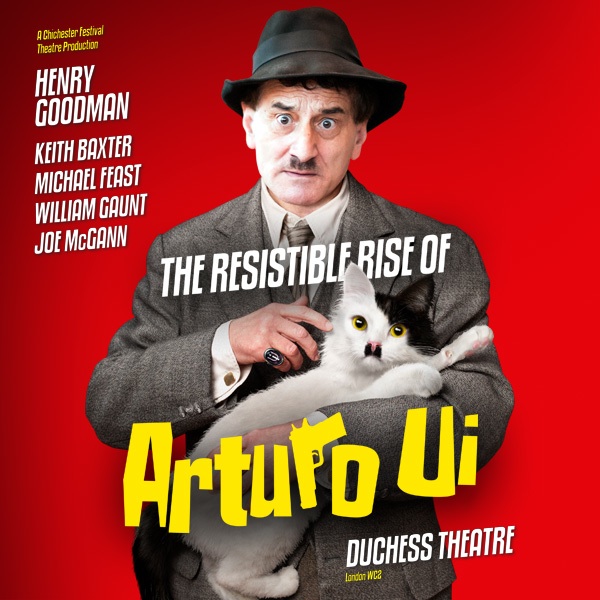 [Scroll to the bottom of this page to find out about an exciting competition!]
Written in 1941 during his exile in Finland, Brecht originally conceptualised Der aufhaltsame Aufstieg des Arturo Ui [The Resistible Rise of Arturo Ui] for an American audience. Brecht intended to stage the play after his arrival in the US in the same year, but the plan for a New York production eventually had to be abandoned and the play did not premiere until 10 November 1958, over two years after Brecht's death on 14 August 1956. Since its premier in Stuttgart, Der aufhaltsame Aufstieg des Arturo Ui has been revived many times on both the German and international stage, including several long running productions at the Berliner Ensemble (e.g. one directed by Heiner Müller, which premiered in 2002 and is still part of the repertoire). Brecht's Historienfarce [historical farce] is now set to be performed in English translation at the Duchess Theatre, London, from 18 September to 7 December 2013 and the Oxford German Network will be organising coinciding events. 
The play can be categorised as part of the theatrical movement of epic theatre. The subtitle added in the English Methuen Student Edition, A parable play, gives an indication of the intent of Arturo Ui. Set in the Chicago gangster milieu of the 1930s, the play fictionalises Adolf Hitler's rise to power in the 1930s by turning many of the historical figures and events into the story of mobster Arturo Ui and his struggle for control of Chicago's Cauliflower Trust. Another historical frame of reference for the play is the American gangster Al Capone. Brecht also makes heavy allusions to the garden scene from Goethe's Faust as well as to elements of several plays by William Shakespeare, such as Mark Anthony's funeral speech from Julius Caesar.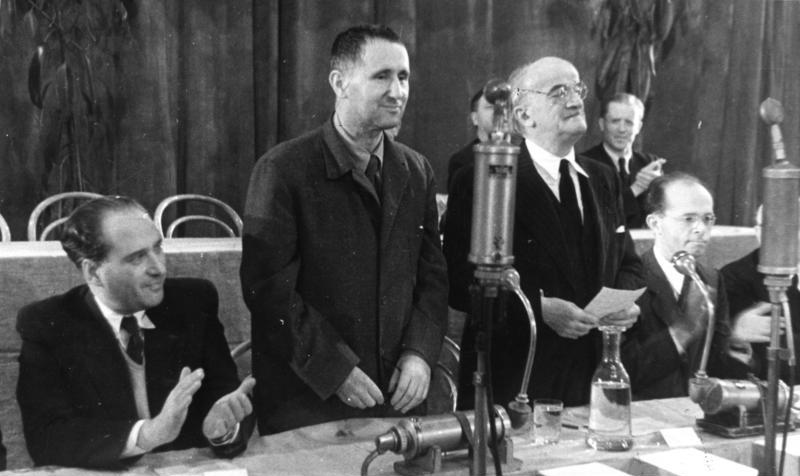 [Left: Bertolt Brecht in 1948]
What happens in the play?
The play begins with a meeting of Cauliflower Trust representatives, who are debating how to save the trust from financial ruin. Arturo Ui offers help, which is declined due to his shady reputation. Instead, the trust decides to seek help from the politician Dogsborough (Paul von Hindenburg). Dogsborough, however, senses that if the city council grants financial aid, the funds might be misappropriated and refuses to assist the trust. Later, Dogsborough is tricked into buying a shipyard and thus becoming a member of the trust. Eventually Dogsborough changes his mind and succeeds in winning funding for the Cauliflower Companies, which is then embezzled (Osthilfeskandal [Eastern Aid Scandal]). Ui finds out about Dogsborough's actions and blackmails him in order to gain more influence in the trust. During the subsequent trial against Dogsborough, Ui's henchmen kill the principal witness so that Dogsborough is discharged. Ui then hires an actor to train him in public speaking. After his training is completed, he arranges a meeting in which he offers the greengrocers protection in return for money. One of the grocers criticises Ui's actions and soon after it is reported that the grocer's premises are on fire, obviously started by Ui's allies (Reichstagsbrand [burning of the Reichstag]). Ui and his gangsters are accused of arson and put on trial, but it becomes obvious that the press, witnesses and judges are already under Ui's control. As a result, an innocent man is charged. A verdict, however, cannot be reached, as the young man dies after drinking a glass of water given to him by Ui's physician. Now that Ui dominates the Cauliflower Trust, his highest ranking associates Roma (Ernst Röhm), Givola (Joseph Goebbels) and Giri (Herrmann Göring) vie for Ui's favour and for power within the system. Eventually, Ui decides in Givola's and Giri's favour, and Roma and his men are brutally murdered. In the final scenes of the play Ui attempts to win over the Cauliflower Trust of Cicero (Austria). Its leader Dullfeet, however, has fought hard against Ui in the press and refuses to collaborate. Dullfeet is assassinated and Ui manipulates the final vote on the annexation, expanding his power to Cicero.   
Did you know…?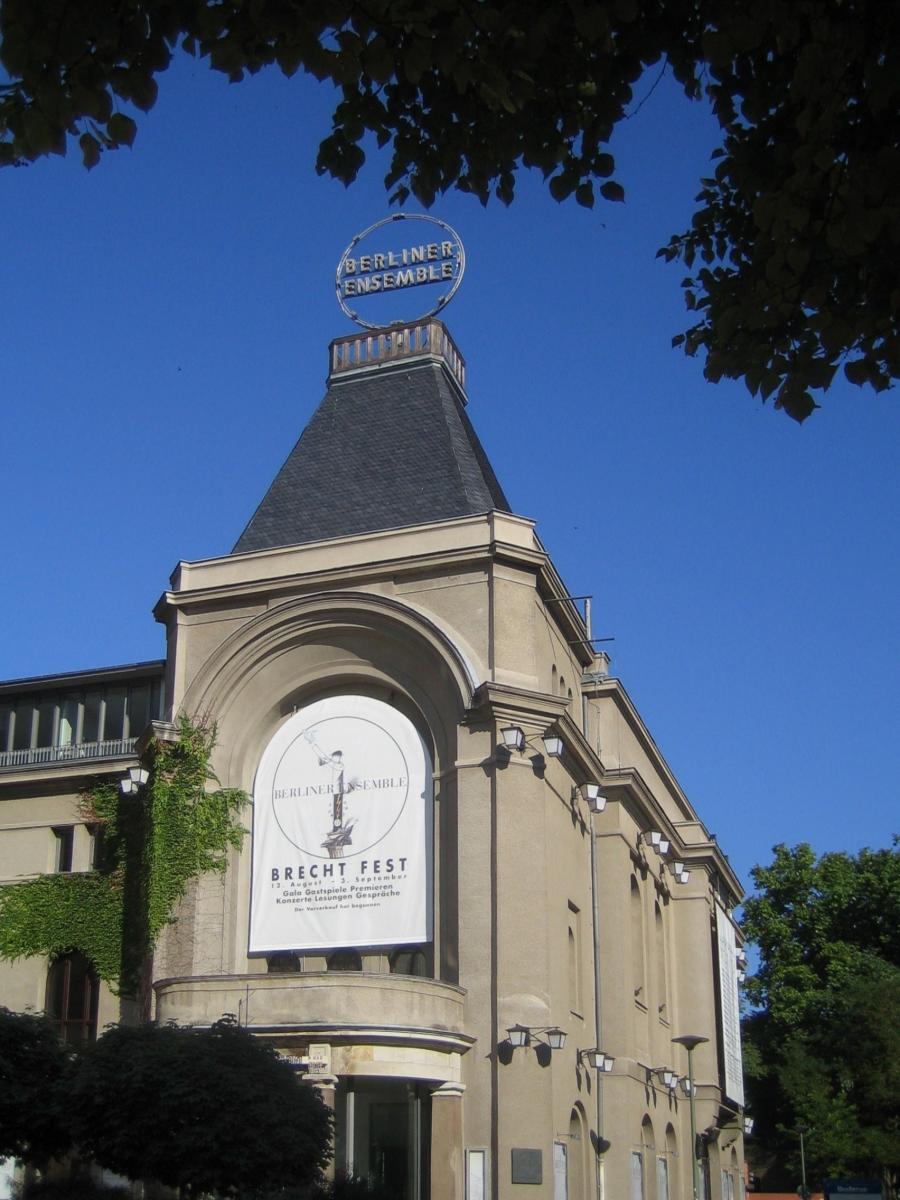 American director Quentin Tarantino was so impressed by Martin Wuttke's portrayal of Arturo Ui at the Berliner Ensemble that he later casted him as Adolf Hitler in his World War II pastiche Inglourious Basterds (2009). Click here to watch an interview with Martin Wuttke about how he played Arturo Ui and his later role as Hitler.
You can find useful background information, commentary and supporting material in Bertolt Brecht, The Resistable Rise of Arturo Ui, ed. by Ralph Manheim and Non Worrall (London: Methuen Drama, 2007). The original German text and an annotated edition are published by Suhrkamp. 
If you are in Year 7 to 13, you could win tickets to see The Resistable Rise of Arturo Ui at the Duchess Theatre in London! Just find Oxford German Network on Facebook and send us a message with the answer to this question: Where is The Resistable Rise of Arturo Ui set? Winners will be announced at the end of the summer!
[Right: The Berliner Ensemble celebrates its Brecht Fest]