The Oxford German Network "Weihnachtsplätzchenbackwettbewerb"
Weihnachtsplätzchenbackwettbewerb 2021
This year's virtual Weihnachtsplätzchenwettbewerb was a great success. There were a total of 50 entries across both the Christmas baking and Christmas decoration categories and the standard was very high, which made for a difficult judging process. After much deliberation, the judges decided on winners for the 'most creative', 'most beautiful' and 'most original' bakes and the 'best overall decoration'. You can see the pictures of the winning entries here.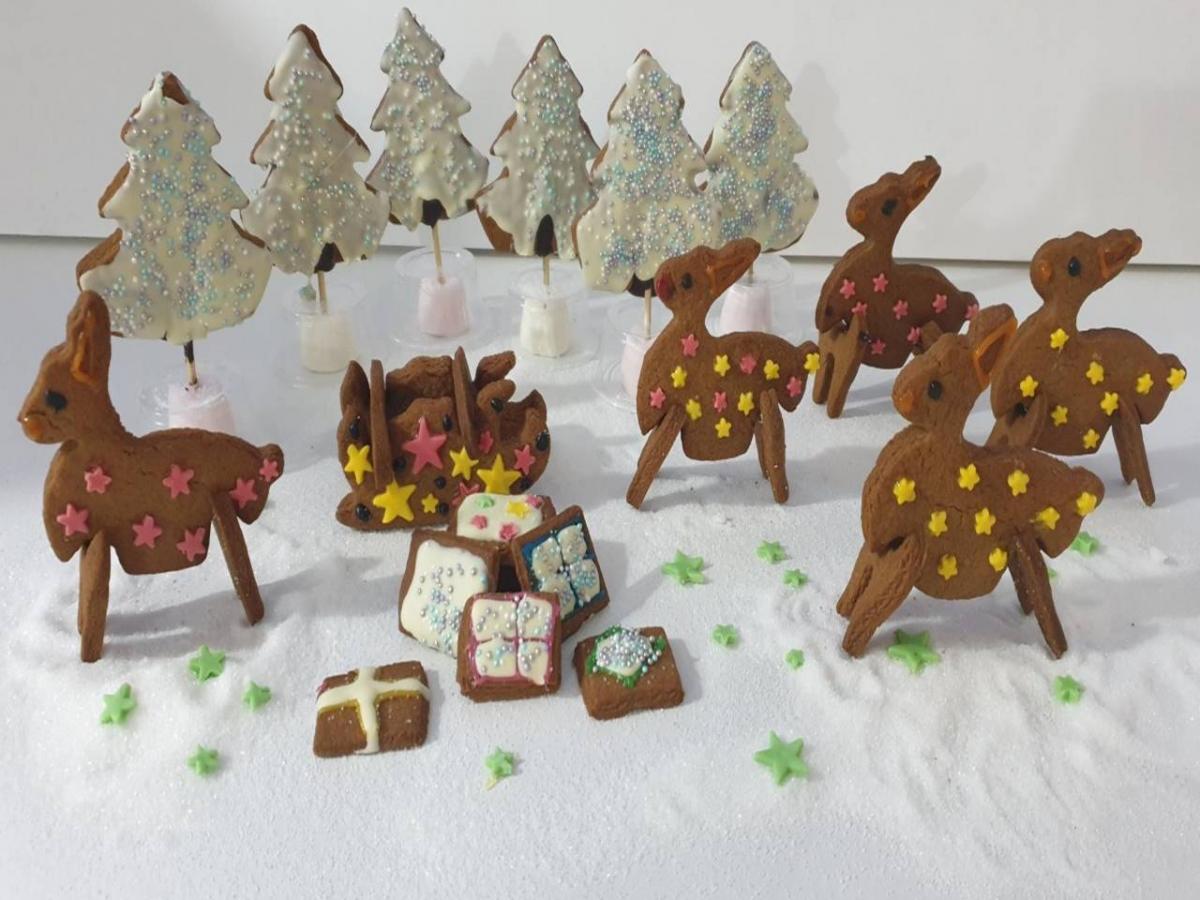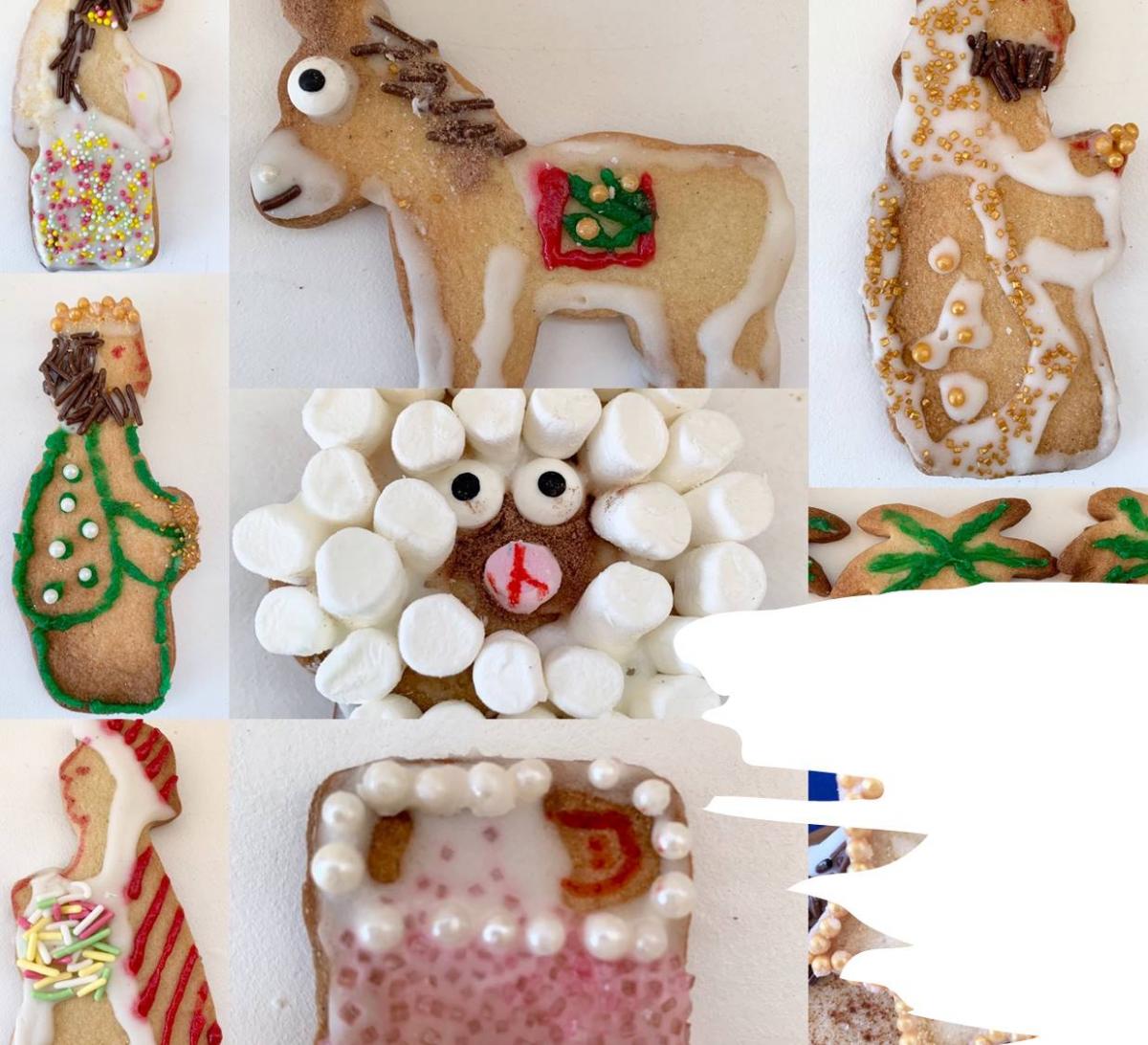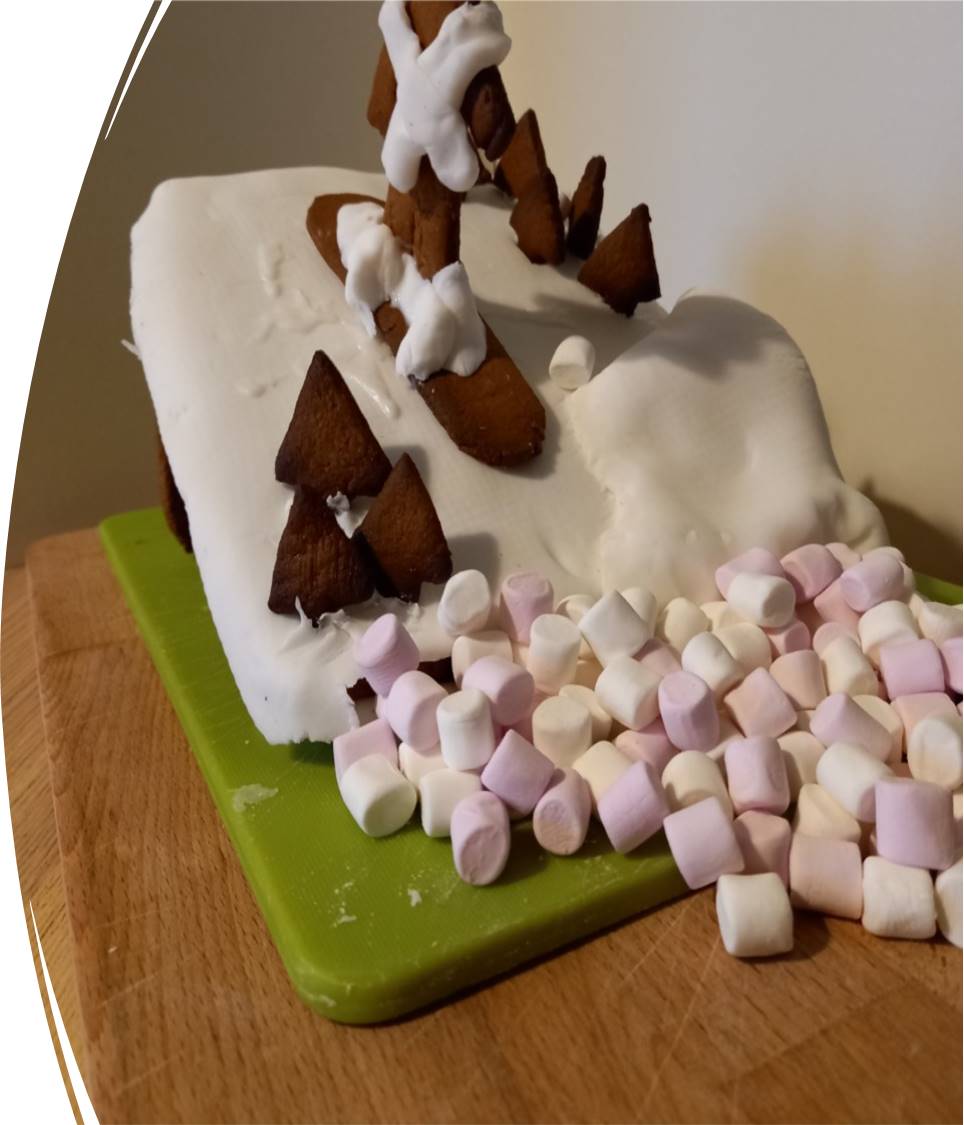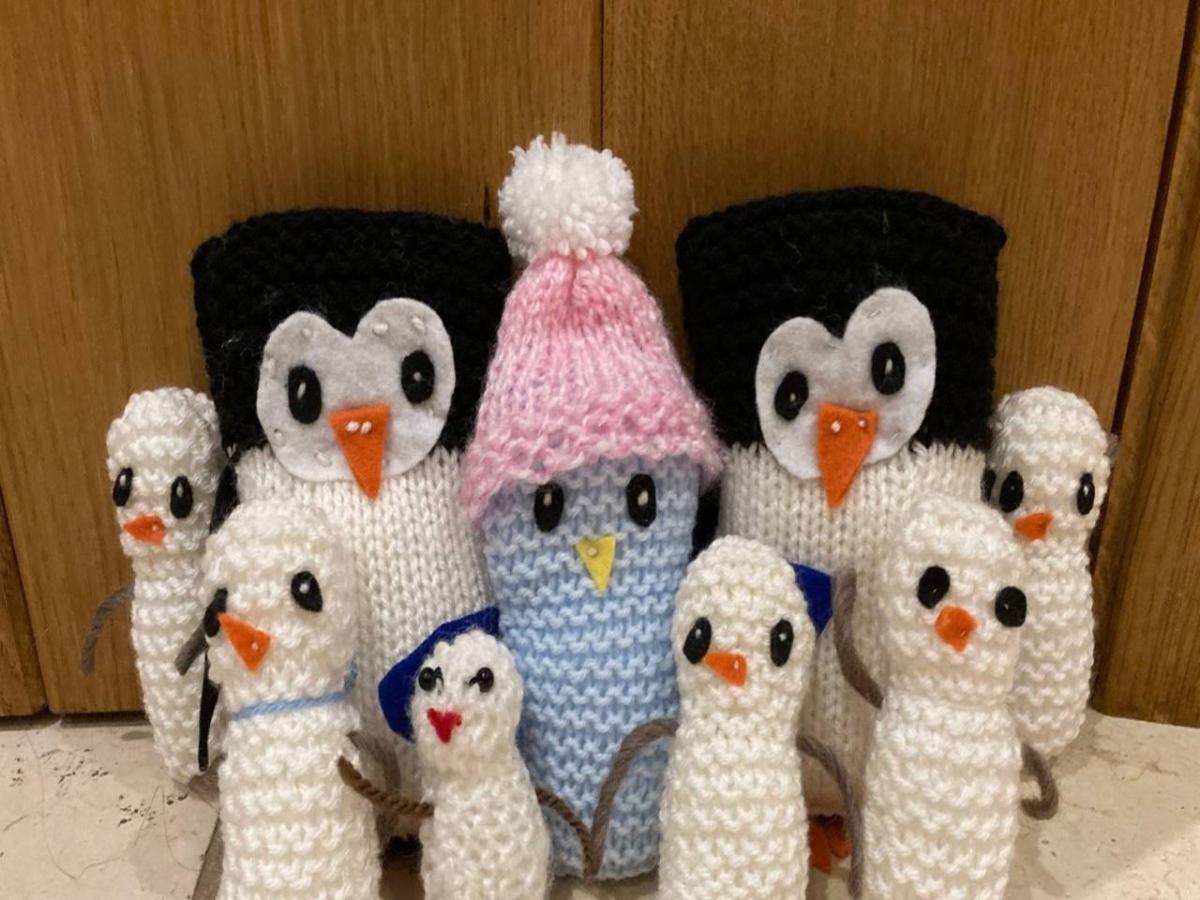 Weihnachtsplätzchenbackwettbewerb 2020
This year, in 2020, we had to do things differently due to Covid-19. We invited all schools to participate by baking and crafting at home and sending in photos of their creations.
We are proud to say that we had over 50 Plätzchen photos and quite a few decorations sent in. How difficult the judging was, everything looked so fantastic, creative, made with lots of love and care! 
And here are the winners from Bartholomew in Witney, John Mason in Abingdon, Abingdon School, Magdalen College School, Wallingford School, Headington School, Oxford Spires Academy, Oxford High School, St. Helen and St. Katherine, Abingdon.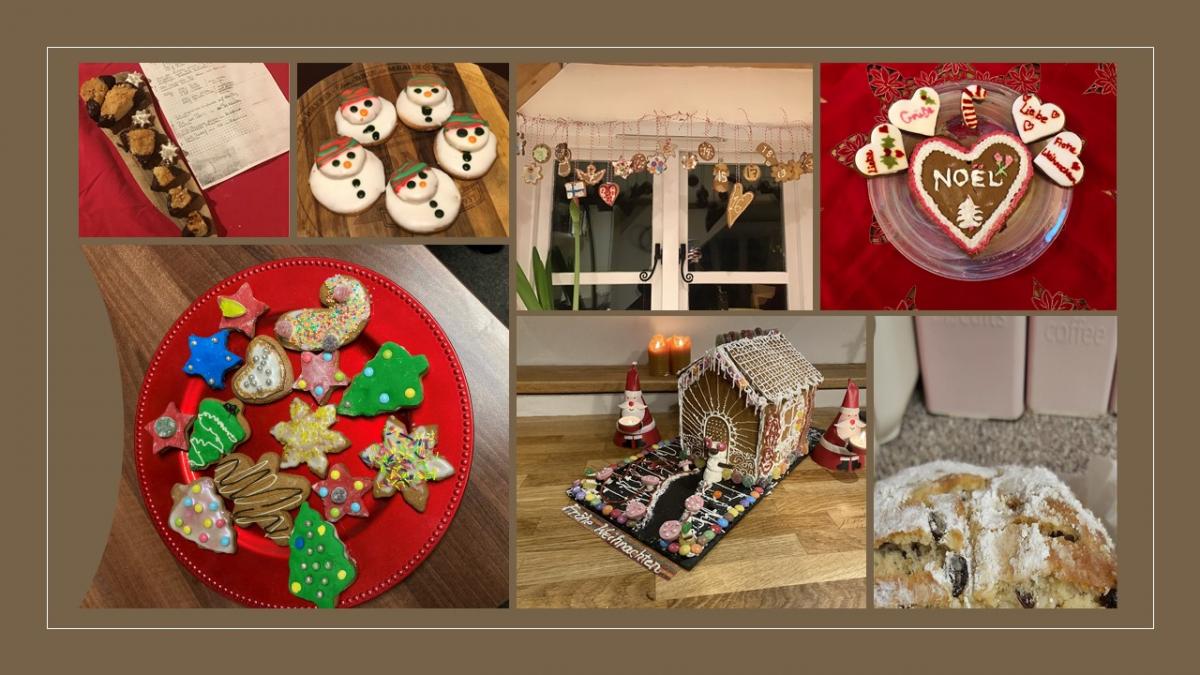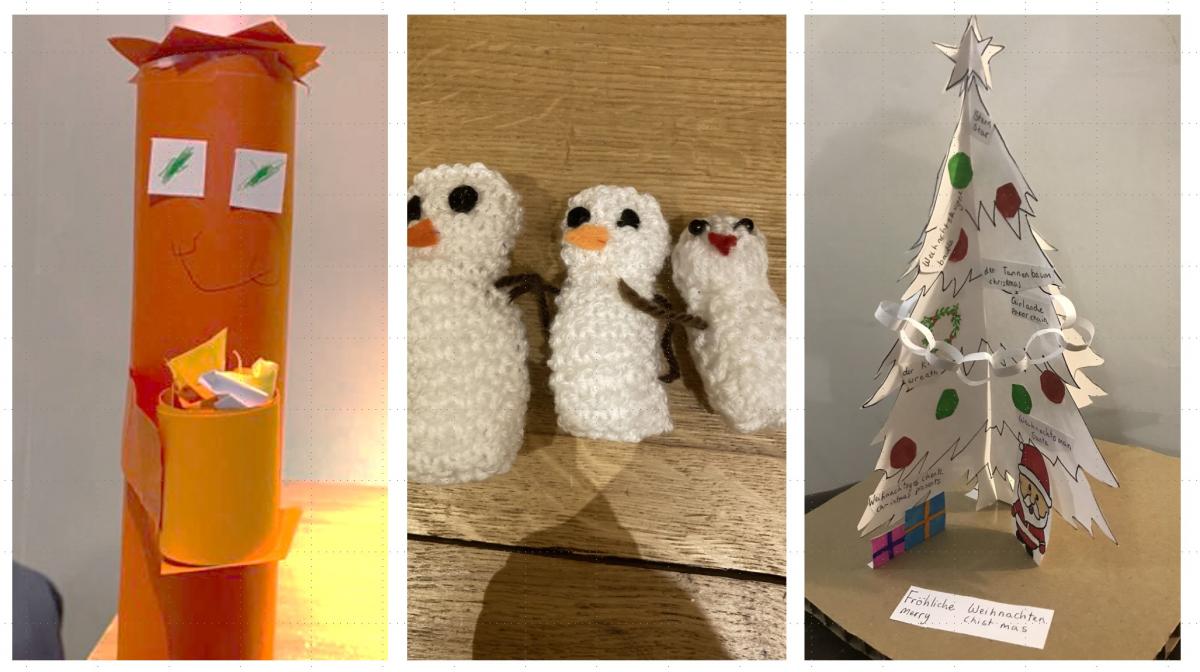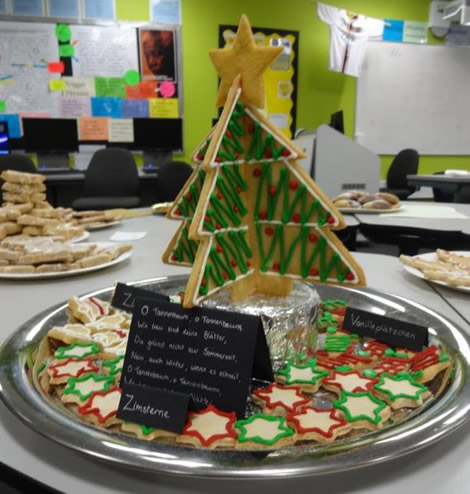 Weihnachtsplätzchenbackwettbewerb 2019
All Year 7, 8 and 9 students from our partner schools were invited to take part in our annual 'Weihnachtsplätzchenbackwettbewerb' - a competition to make the tastiest, best decorated, most inventive German Christmas biscuits! 
The evening included the biscuit-judging, making German Christmas decorations, and a Christmas quiz with lots of prizes.
Christmas biscuits, or 'Plätzchen', are a grand tradition in the German-speaking countries. Families and groups of friends gather in the weeks before Christmas to sift, stir, shape and bake piles and piles of delicious Plätzchen, which are then offered to guests over the whole festive season, and often given as Christmas presents to friends, too.
Typical Plätzchen range from 'Zimtsterne' (cinnamon stars) to 'Vanillekipferl' (vanilla crescents), and the crowning glory is  'Lebkuchen' (which literally means 'life cake').
The beauty of the Plätzchen is that the basic recipes lend themselves to endless experimentation and invention.
The links below contain recipes to help the students to get started: experiment with different shapes, spices, ingredients and decorations to bake truly unique Plätzchen that will wow the judges!
Recipes
Have you just started learning German? Then you might find this recipe handy - use your language-detective skills to decipher the recipe.
The OGN Weihnachtsplätzchenbackwettbewerb is supported by Routes into Languages South.
The OGN Weihnachtsbackwettbewerb 2019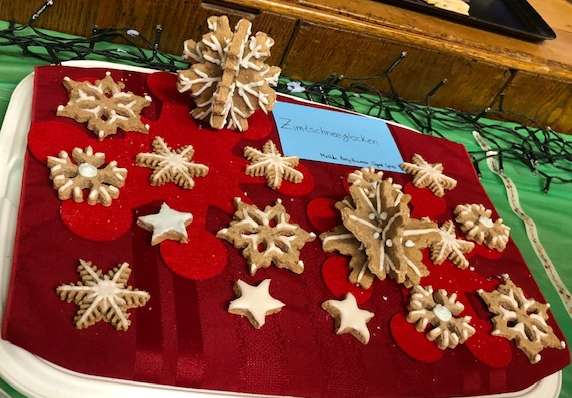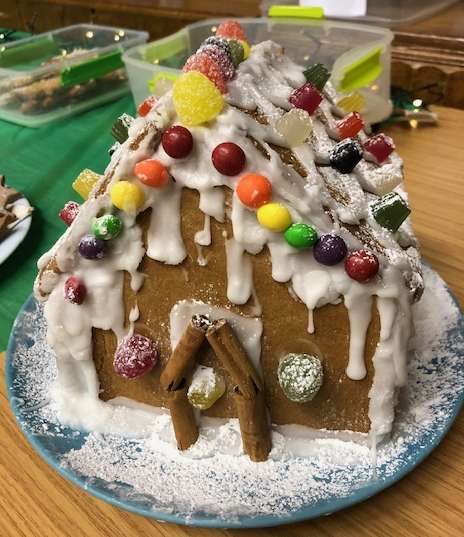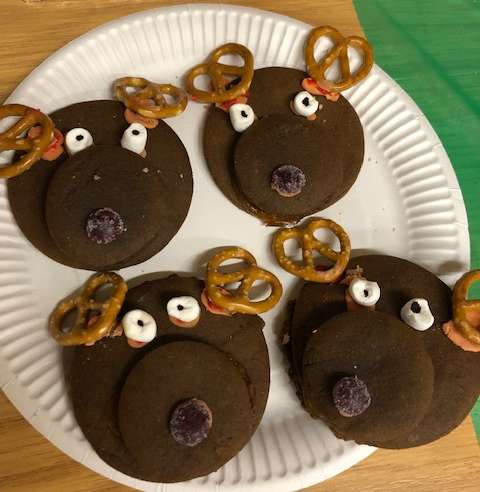 With many thanks to a student from Oxford High School, December 2019 for writing this report:
On Monday after school, me and my German colleagues headed off to the Taylorian Hall which is near the Ashmolean and our walk there was spent laughing and talking. We were going to the Oxford German Network´s Christmas Baking Competition. I had a friend carrying a gorgeous Gingerbread house and myself was holding a box of orange Christmas cookies. I love baking and it was a great opportunity to hang out with my friends. As we entered the hall, we were greeted by other schools such as Cheney´s and St. Edward´s. The red table in the middle was filled with cookies and cakes. It was mouth-watering. I placed my cookies down on the table and joined my class at a table. On the table was a box of decorating supplies, to the right was a snack table filled with crisps and hot chocolate. The evening was spent creating decorations for two Christmas trees, it was very clam and wonderful. We had all sorts of material to create glittering stars, snowflakes, candy canes and so on. There was also a German Christmas quiz. I learnt a lot about the German ways of celebrating Christmas and found it fascinating. It also added words to my German vocabulary which proved to be quite useful in class. The results of the judging revealed that my friend´s Gingerbread House had won. There were three categories and she won in the category "Most beautiful". Eventually, we got to taste my classmates´ cakes and cookies. They were delicious! My friend left with a half-eaten Gingerbread and a chocolate Santa – which was her prize. The experience was overall delightful and fun. A special and awesome way to celebrate Christmas with another country. I loved it! Thank you, Oxford German Network, for a lovely and festive evening. Frohe Weihnachten!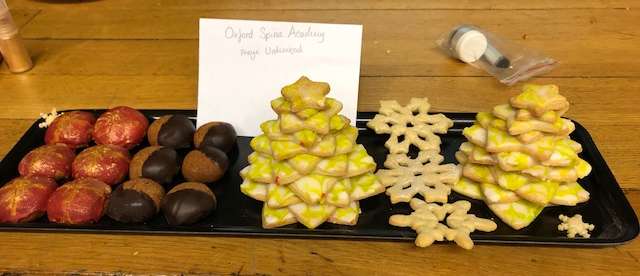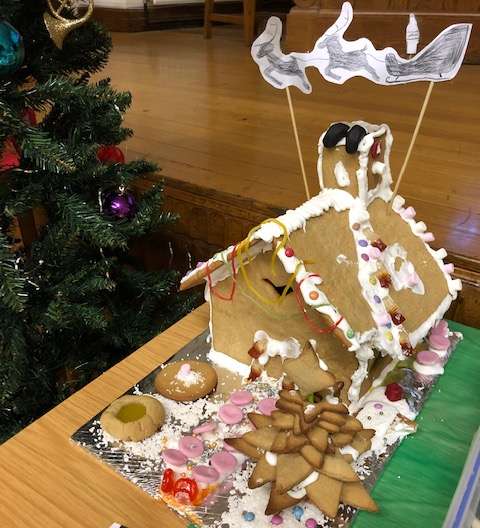 The OGN Weihnachtsplätzchenbackwettbewerb 2014
Abingdon School hosted a wonderful event at the end of the winter term in 2014, complete with German Christmas music, festive refreshments, and a hall full of enthused bakers!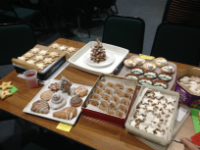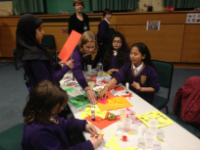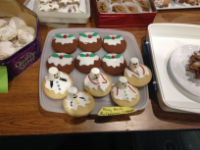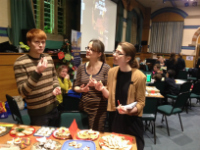 The OGN Weihnachtsplätzchenbackwettbewerb 2013
On the day before 'St. Nikolaustag' 2013, Year 9 students from our partner schools impressed the incorruptible OGN jury with the results of their German Christmas bicuit baking adventures. Maya Choudhury from Oxford High School reports:  
I can remember when my German class were told that there was going to be a German Biscuit and Cake Competition and several other schools were also going to be taking part. Everyone instantly became interested and so we spent pretty much the whole lesson discussing the rules and who would be in each group. So the date, time, place and rules were out and each group started planning what they were going to make and most of all how!
Then when it got to the evening of the competition each school started to arrive and carefully displayed their delicate and intricate biscuits and cakes. The aroma of bakery filled the dining room. When every school had arrived we all sat down and started to make different shapes to put on the Christmas tree. Next there was a challenging but very entertaining quiz which everyone thoroughly enjoyed! Meanwhile though, the judges had been walking round each school's table and examining and tasting each biscuit or cake. 
So the results were in! In third place .... and very excitingly for my group we won the prize for the most creative cake. I was very pleased with our success as all the entries were excellent. The organisation was extremely good and the whole evening went according to plan. It was over all a very good evening, the memories of which will be remembered for many years still to come, and something for all German students to look forward to.
Thank you for organising such a wonderful event.
The OGN Weihnachtsplätzchenbackwettbewerb 2012
The inaugural Oxford German Network Plätzchenbackwettbewerb was hosted by Magdalen College School in December 2012. Below are some photos of the evening (after the judges had 'tested' the students' delicious entries!)