A German Classic 2022: 
Annette von Droste-Hülshoff, Die Judenbuche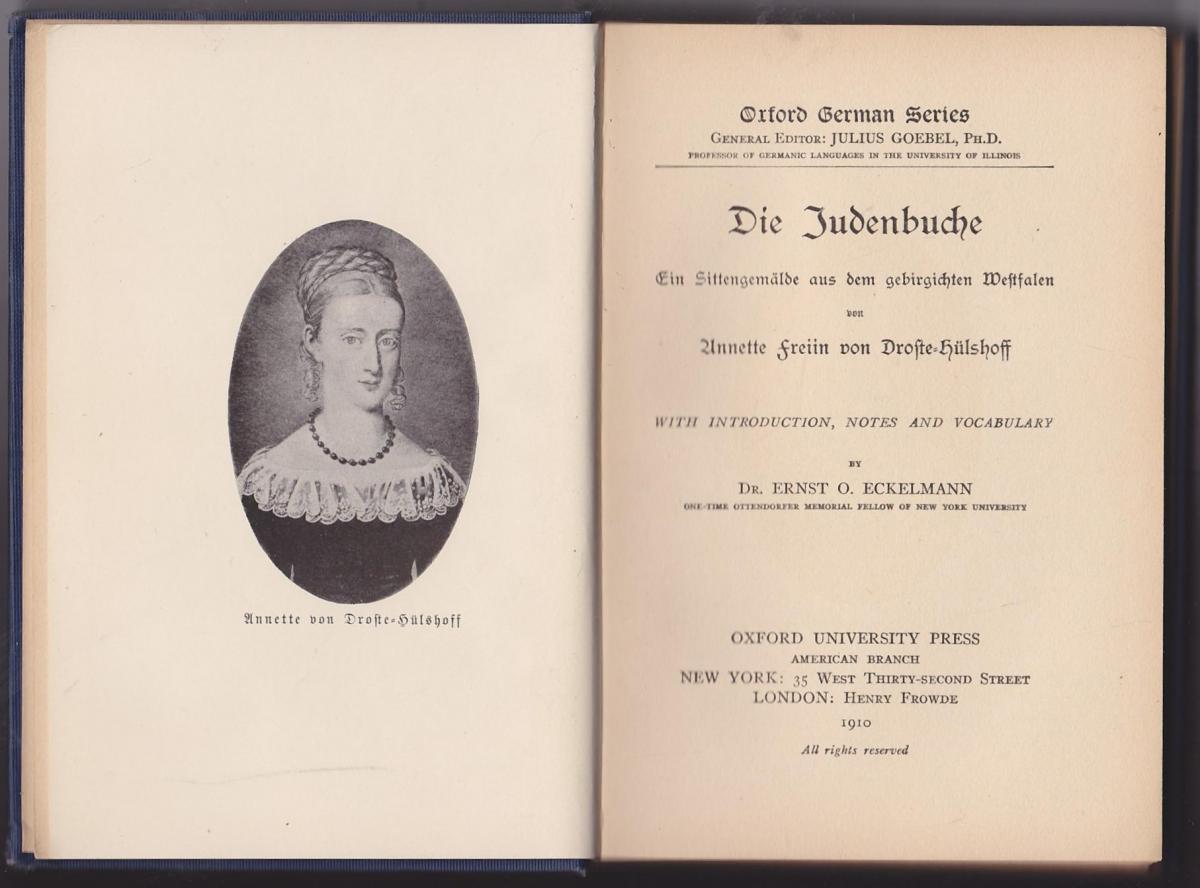 Our set text in 2022 was Annette von Droste-Hülshoff's captivating story Die Judenbuche, published in 1842. Droste-Hülshoff was one of the most influential German-speaking female authors of the 19th century. Her work Die Judenbuche is sometimes considered to be the first murder mystery, containing elements of a crime thriller and Gothic novel. Based on a historical crime case of the murder of Jewish merchant Soistmann Berendt, this whodunnit follows the fate of the ambivalent protagonist Friedrich Mergel and his descent into criminality. Die Judenbuche portrays how the social order is irrevocably disrupted as public opinion, customary right and official law collide. Filled with plot twists, Doppelgänger, grisly murders and red herrings, Die Judenbuche explores how human nature is shaped and (de)formed, confronting us with existential questions of good and evil and all the greyscales in between.
We are delighted to announce the following prizewinners:
First Prize (£500):            Isabelle Gregory
Second Prize (£300):       Gabrielle Nkem-Ajoku
Third Prize (£100):          Iona Wood
The essays by James Abrahams, Emily Dicker and Neil Sillence were awarded a High Commendation by the judges, and the essays by Alice Easey and Daniel Ekundayo were awarded a Commendation.
The judges were most impressed with the quality of the submissions overall and commented on the sophistication with which the entries engaged with this challenging text, its themes and the characters' complex motives. They also commended the insightful use of textual evidence and the adventurous connections entrants established between the historical text and current issues.
As for previous German Classic competitions, the resources on Die Judenbuche (see below) will remain freely accessible. This year we recorded a series of two video podcasts with academics and students at the University of Oxford. Together with our earlier videos, they have already had more than 15,000 views on YouTube. This year's videos are:
Episode 1: Just a Whodunnit?
Episode 2: Die Judenbuche and Homer's Odyssey
We also recommend our video with Prof. Ritchie Robertson, former head judge of the competition, on the topic of "How to write a literature essay".
Additionally, have a look at these free online resources:
'A German Classic', Oxford German Network's essay competition for sixth formers, was established with the generous sponsorship of Jonathan Gaisman, QC, and aims to stimulate interest in great German writers and influential literary works in German. You will find the resources on our previous set texts here.
For all details about eligibility, study packs, essay questions, submission, judging criteria, and more, see here.