A German Classic 2022: 
Annette von Droste-Hülshoff, Die Judenbuche
An Essay Prize for Sixth-Formers
1st Prize: £500     2nd Prize: £300     3rd Prize: £100
Deadline: Wednesday 14 September 2022, 12 noon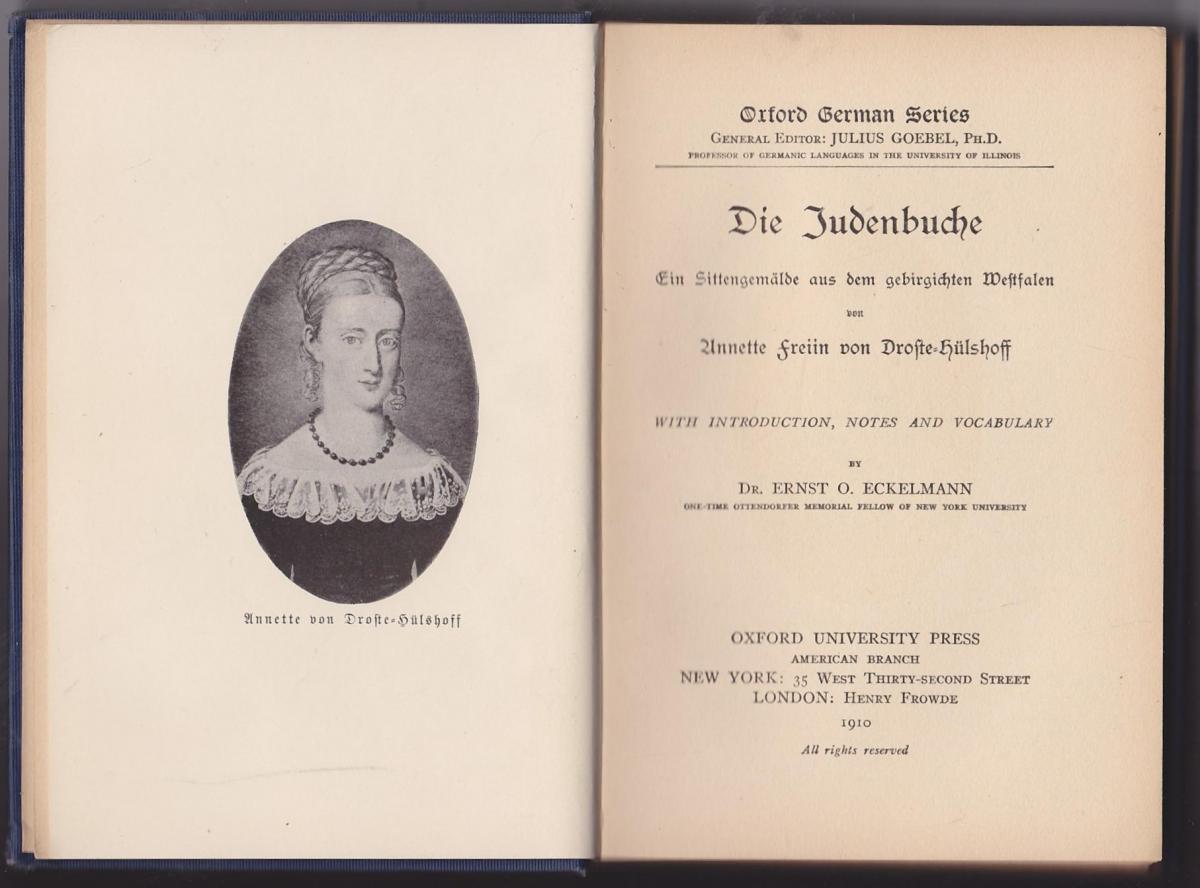 We are delighted to announce the launch of the sixth round of 'A German Classic' – our essay competition for sixth-form students. This year we would like to invite you to read with us Annette von Droste-Hülshoff's captivating story Die Judenbuche published in 1842. Annette von Droste-Hülshoff, often called Droste by friends and family, was one of the most influential German-speaking female authors of the 19th century. Her work Die Judenbuche is sometimes considered to be the first murder mystery, containing elements of a crime thriller and gothic novel. Based on a historical crime case of the murder of Jewish merchant Soistmann Berendt, this whodunnit follows the fate of the ambivalent protagonist Friedrich Mergel and his descent into criminality. Die Judenbuche portrays how the societal order is irrevocably disrupted as public opinion, customary right, and official law collide. Filled with plot twists, Doppelgänger, grisly murders, and red herrings, Die Judenbuche explores how human nature is shaped and (de)formed, confronting us with existential questions of good and evil and all the greyscales in between.
We have put together a free study pack including a set of multimedia materials that will help you delve into this fascinating text. Over the coming weeks, we will release further resources and provide insights into the text and its author on our webpage and via Twitter. Follow us @OxfordGermanNet for more! Together we will explore the text, discussing topics ranging from uncanny Doppelgängers, deadly curses, and 18th-century slavery, showing you the enduring relevance of this 19th-century text.
For all details about eligibility, study packs, essay questions, submission, judging criteria, and more, see here.
For the sign-up form please click here.
We encourage all students interested in entering the competition to email their UK correspondence address to the Prize Coordinator (Natascha Domeisen germanclassic@mod-langs.ox.ac.uk) by 12 noon on 25 June to receive a free study pack. If you get in touch after 25 June, we cannot guarantee to send you a full study pack but will at least email a copy of our secondary literature reader to you.
You can also have a look at these free online resources:
You may also be interested in applying to attend the German Classic Conference 2022:
Click here for more information.