Tercentenary – Frederick the Great in Oxford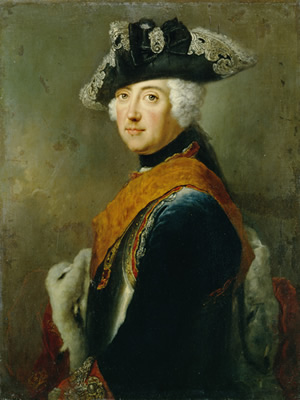 Frederick the Great (1750) by Antoine Pesne
2012 was the 300th anniversary of the birth of one of Germany's most well-known and influential rulers: Frederick the Great, Prussian King from 1740 until his death in 1786. He was a highly accomplished individual: with interests in music and philosophy as a young man, he maintained an enduring friendship with Voltaire while making his mark immediately he ascended the throne with controversial, brilliant military campaigns. Frederick is credited with modernizing the Prussian state's bureaucracy, civil service and army, strengthening the Prussian economy, and consolidating the Prussian territories. He thereby provided Prussia with the infrastructure to become a leading European power.
Tercentenary Exhibition and Research
The anniversary year was celebrated in Germany with numerous high profile events, including a major exhibition in Frederick's glittering palace grounds in Potsdam, not far from Berlin (www.friederisiko.de). The exhibition showcased hitherto unseen facets of Frederick's character and view of the world, revealing him to the public in a new light. The conference series 'Friedrich300' (www.perspectivia.net) brought together Frederick researchers from a variety of fields to explore aspects of Frederick and the period of his reign. The papers and discussions ranged widely across his life, work and impact, and an important topic for the researchers was to examine the memory and myth of Frederick as 'the Great' – including his own strategies for establishing his fame.
Oxford also hosted a series of cultural events in honour of the Prussian King (http://frederick.mml.ox.ac.uk/). A two-day symposium on Frederick the Great and the Republic of Letters, organised in conjunction with the Voltaire Foundation, brought together researchers from the United Kingdom, Germany and Switzerland to explore Frederick's relationship to the Enlightenment and his literary legacy. A volume based on the conference papers is currently in preparation.
The Bodleian Library displayed items from its collections, including three previously unknown letters by Frederick. The most intriguing of these is a letter from the 20-year-old Frederick in which he advises a fellow officer (in French) about treatment for venereal disease while adding a postscript (in German) on a military matter.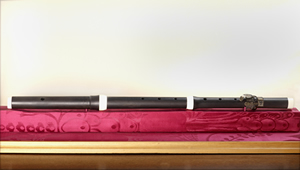 Frederick the Great's own flute
In October 2012, Professor Tim Blanning (Cambridge) gave a public lecture on The Cultural Fashioning of Frederick the Great, which was followed by a concert of Music from the Court of Frederick the Great, both at the Sheldonian Theatre. The concert featured music by the court composer C.P.E. Bach and Frederick's flute teacher J.J. Quantz, showcased music composed by the King, himself an accomplished flautist, and gave an opportunity to hear parts of J.S. Bach's magnificent Musical Offering, composed in response to a challenge by Frederick. The concert was performed by an outstanding period-instrument ensemble, the London Handel Players, giving the audience an exciting opportunity to experience the sound of the eighteenth-century musical Enlightenment in one of the architectural jewels of Oxford.
Click here for more information about the tercentenary in Oxford: frederick.mml.ox.ac.uk