A Month in Germany
By Thea Bradbury
I was lucky enough to receive one of the UK-German Connection's scholarships in 2011 and spent a month of my summer holidays travelling around Germany in the company of a group of international students. In the relatively limited time available to us, we managed not only to visit Bonn, Munich, Cologne and Berlin, but also to spend a fortnight living with a family on the Austrian border. The trip was the most memorable of my life for three main reasons, the first being the opportunity to spend so much time immersed in German language and culture. Within a month, my ability to speak German had transformed from 'reasonable' to 'reasonably fluent', with an emphasis on the kind of slang and profanity that my school had, very unfairly, never bothered to teach me. The two weeks I spent in the south of the country were a valuable lesson in both adapting to different dialects, and nodding and smiling when you have no idea what's going on. And although English and German culture are said to be alike in many ways, I picked up on numerous minor differences, such as my hosts' surprise when I waited for everyone else to be served before starting to eat.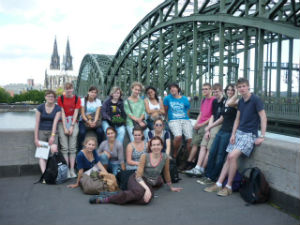 Perhaps the most exciting aspect of my trip was the mixture of cultures it encompassed: there were students not just from the UK, but from America, France, Lithuania, Iceland, Ecuador, the Seychelles… I was amazed to discover that, through German, I could communicate with people whose mother tongues were unintelligible to me. Despite the fact that we were in Germany, on a trip funded by the German government, I learnt just as much about the culture of South America as I did about our host country. And friends made on the scholarship programme are for life, not just the summer: I spent several weeks interrailing in Europe before starting university, and was guaranteed a floor to sleep on no matter which country I ended up in.
Finally – and most importantly – my scholarship revolutionised the way I viewed German cooking. Yes, the Germans eat a lot of sausage and potatoes (and they're delicious), but they also have a whole host of regional specialties, from dumplings to doner kebab (a Berlin tradition), to the most spectacular desserts I've seen in my life. Black forest gateau. Pancakes. The infamous Berliner doughnut. Apple tart. And my absolute favourite, the wonderful Spaghettieis – ice-cream pushed through a sieve to form spaghetti-like strands, topped with strawberry 'bolognese' sauce and chocolate shavings.
The UK-German Connection's scholarship programme changed the way I view the world, gave me friends in places I've never even been to, and left me with some priceless pictures of my group leader in Lederhosen. Germany ­– go for the educational value, stay for the baked goods.
Thea is currently studying German and Linguistics at St Hugh's College, Oxford University.
  For information about the range of scholarships and opportunities offered by UK-German Connection, visit their website: