Get involved!
Speak to the Future 
Speak to the Future is a campaign that aims to raise awareness about the importance of languages and language learning in the UK by highlighting the issue among policy makers. Find out how you can get involved here. Take a look at this presentation for some interesting facts and figures about why we should learn languages in the UK!
1000 Words Challenge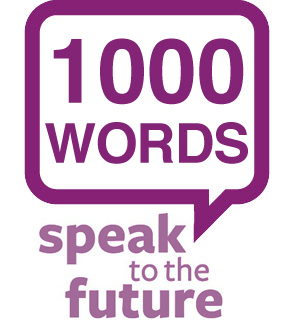 The 1000 Words Challenge is a campaign funded by the British Academy and Routes into Languages to get everyone to learn 1000 words in another language - a realistic and achievable goal for everyone, regardless of linguistic aptitude! To find out more about the challenge and how to take part click here!
Modern Languages in the News!
Oxford German Network has been in the news, commenting on the state of modern language learning in the UK. Click the links below to read more!
Turning modern foreign language learning around
The Guardian, 11/10/2013
Read OGN Director, Professor Katrin Kohl's letter to The Guardian on Joining Up Modern Languages.
European language degree courses abandoned by many UK universities
The Guardian, 08/10/2013, pp.1-2, Anna Bawden
More than a third of UK universities have given up offering specialist modern European language degrees over the past 15 years, according to a Guardian survey, with leading academics arguing that harsh marking at A-level is putting teenagers off studying the subject at school. Click on the link to read more.
Language grades translate into poor results
The Guardian, 08/10/2013, p.37
Professor Katrin Kohl, vice-chair of modern languages at Oxford University, and nearly 80 signatories have published a letter criticising the 'unfair grading' of school language exams: 'It is well-known that the UK is losing out culturally and economically because of inadequate foreign language skills among English native speakers. ... '
Modern languages: degree courses in freefall
The Guardian online, 08/10/2013, Anna Bawden